Facebook has banned 20 organizations and individuals in Myanmar, including a senior military commander, from using its service and acknowledged that it was "too slow" to prevent the spread of "hate and misinformation" in the country.
The social network said in a statement Monday that it had imposed the bans after the United Nations "found evidence that many of these individuals and organizations committed or enabled serious human rights abuses in the country."
"We want to prevent them from using our service to further inflame ethnic and religious tensions," the company said in its statement.
Facebook (FB) said that the ban applied to Myanmar Commander-in-Chief Senior-General Min Aung Hlaing as well as a military television network. It said it had not found a presence on its platforms for all 20 banned individuals and organizations.
An independent United Nations investigation released earlier Monday called on military leaders in Myanmar to be investigated and prosecuted for genocide, crimes against humanity and war crimes. The report contains allegations of murder, imprisonment and sexual violence against Rohingya Muslims in the country.
Myanmar's military has repeatedly denied that it has deliberately attacked unarmed Rohingya.
International experts have pointed to Facebook as being a major source of misinformation and hate speech fueling violence against minorities in Myanmar. A Reuters investigative reportpublished earlier this month found that Facebook was "failing" to end hate speech against the Rohingya and other Muslims.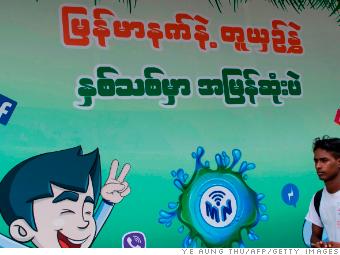 Facebook on Monday defended its progress in a country where many people use it as a primary source of news and communication.
"The ethnic violence in Myanmar has been truly horrific," it said. "While we were too slow to act, we're now making progress — with better technology to identify hate speech, improved reporting tools, and more people to review content."
In addition to the bans, Facebook said it had removed 46 pages and 12 accounts for "engaging in coordinated inauthentic behavior." It said the pages, which claimed to be independent, had been used to push the message of the Myanmar military.
Facebook (FB) posted some examples of the removed content, including posts that allege Muslims had burned down their own homes but blamed the military.